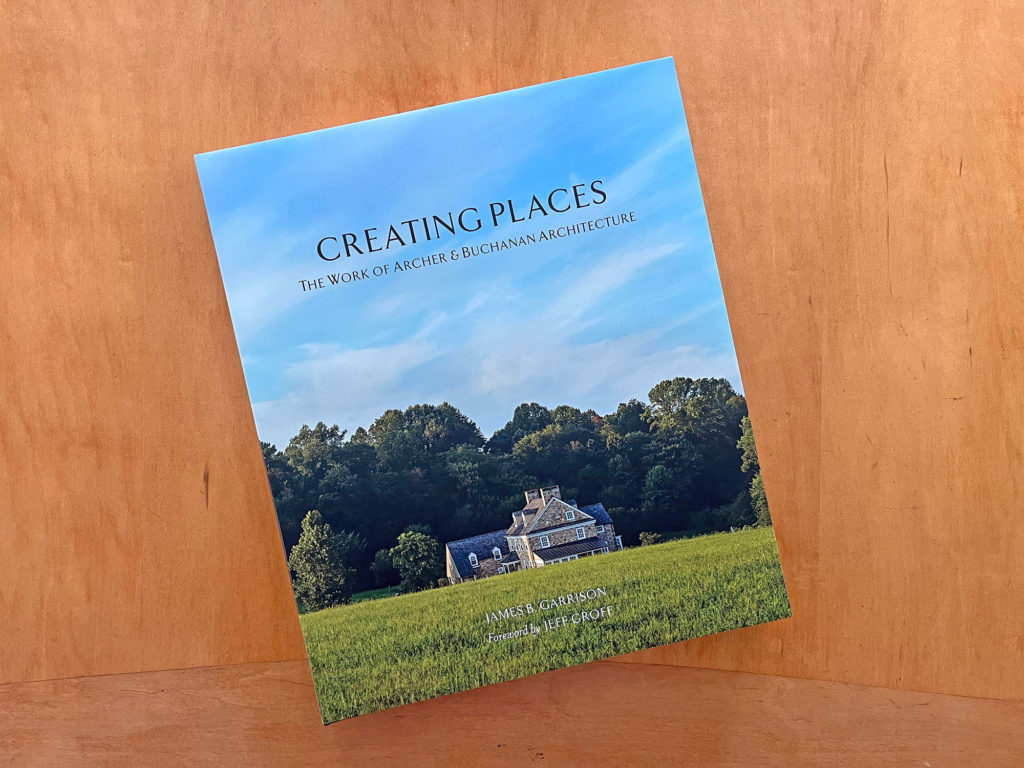 Archer & Buchanan Releases CREATING PLACES: THE WORK OF ARCHER & BUCHANAN ARCHITECTURE
April 14, 2022
Archer & Buchanan Architecture is pleased to announce the release of our book, Creating Places: The Work of Archer & Buchanan Architecture. Prompted by the celebration of the firm's twenty-fifth anniversary, the book provides a studied look into select projects conceived by the firm since 1996. The 228-page volume is illustrated with drawings, plans, and hundreds of color photos, and includes descriptive narratives for each of the featured projects. The book further illuminates the projects from the perspectives of Nature, Context, Moments, and Details & Materials through essays that provide a lens for appreciating the themes evidenced in the oeuvre of the firm.
"It's been an interesting experience," notes founding partner Peter Archer, "to look back at well over a thousand projects and be able to distill the drivers central to our evolution."
Creating Places: The Work of Archer & Buchanan Architecture was written by architect, historian and author James B. Garrison, edited by Henrika Dyck Taylor, and includes a Foreword by Jeff Groff, Estate Historian at Winterthur Museum, Garden & Library. The book will delight readers with its stunning photography and insightful text.
"We owe so much to the folks who got us to this point," adds co-founding partner Richard Buchanan. "Clients, staff, builders, designers, craftspeople – this book is as much a tribute to them as it is to our firm."
Just as we are indebted to each collaborator in a built project, we likewise are grateful to our partners in the design and execution of the book, including Dyad Communications for the elegant design, and Brilliant Graphics for so beautifully producing the book locally in Exton, Pennsylvania.
Partner Michele Thackrah points out that "the book, while representative of a quarter century of proud achievement, is really just a snapshot. There is more to come, much more!"
Creating Places: The Work of Archer & Buchanan Architecture is available for purchase on Amazon and in the Museum Shop of the Chester County History Center.
– BACK TO ANNOUNCEMENTS –