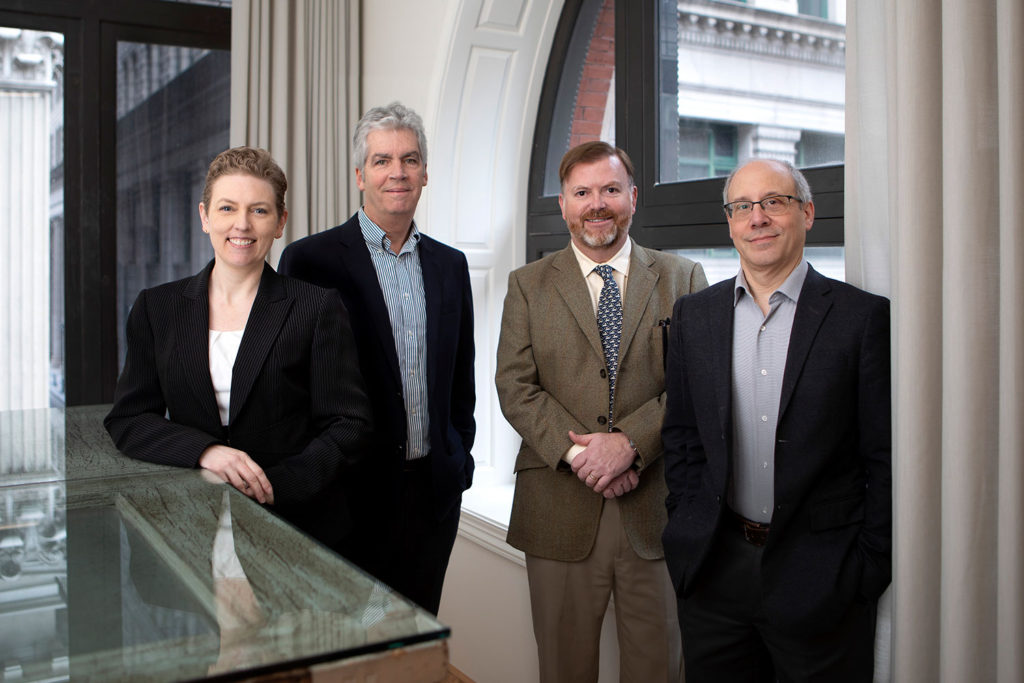 Archer & Buchanan Architecture Celebrates Silver Anniversary
March 15, 2021
ARCHER & BUCHANAN ARCHITECTURE IS THRILLED TO ANNOUNCE that 2021 marks the firm's 25th anniversary!
Best known for residential, institutional and equestrian work, the firm will mark the milestone by creating the Archer & Buchanan Architecture Scholarship at Penn State, designating an annual Day of Service to help those in need, and producing a hard-cover monograph of the firm's work.
"We are grateful for the many clients who, for two and a half decades, have been willing to trust us with their time and investment," says Peter Archer, AIA, co-founder and partner.
Peter, along with Richard Buchanan, AIA founded the firm in 1996 in West Chester with a focus on custom residential and equestrian design. The broad interests of the firm's client base soon prompted the expansion into institutional and educational work.
Principal Daniel Russoniello, AIA, LEED AP joined the firm in 2003 to develop and oversee the firm's non-residential work and services, with a particular emphasis on sustainable design. Michele Thackrah, AIA, LEED AP, an accomplished project manager and designer fluent in the local and historic vernacular, was named principal in 2011 and partner in 2018. The leaders oversee a staff of 23 highly skilled architects and designers who share an appreciation for the rich building traditions of the tri-state area.
"Beyond architecture, our amazing staff is trained in historic preservation and restoration, interior design, and environmental sustainability," says partner Richard Buchanan. "From the beginning, we committed to a truly collaborative process with all of our clients. It is a process based on respect, trust, communication and a shared sense of purpose."
Penn State Scholarship
The firm has established the Archer & Buchanan Architecture Scholarship to be awarded to an architectural student in Penn State's College of Arts and Architecture who demonstrates financial need and whose gender, race, ethnic, cultural or national background contribute to the diversity of the student body. Ranked among the top design programs in the Eastern US, Penn State's architecture department is the alma mater of a number of the firm's designers.
Professor Mehrdad Hadighi, head of the Department of Architecture at Penn State, commented, "We are grateful to Archer & Buchanan Architecture for establishing this scholarship that will help us recruit and sustain students who will contribute to the diversity of our student body. There is nothing more important than relieving economic concerns so that our students may concentrate on their world-class architectural education."
"We are delighted to support the next generation of architects and to help sustain the level of design training we have come to expect from Penn State," says partner Michele Thackrah. "Well-designed buildings, particularly homes, will always be a meaningful part of everyday life. We look forward to crafting the home's ever-evolving architectural expression for decades to come."
Day of Service
Archer & Buchanan's Day of Service is a natural extension of the firm's pro bono design work for nonprofit institutions. Nonprofits that the firm has supported include the Chamounix Equestrian Center, Lower Merion Historical Society, Delaware Museum of Natural History, Cheshire Hunt Conservancy and the Fallowfield Friends Meeting House, among others.
"It has been an honor to design buildings that help cultural institutions to further their important work," says principal Dan Russoniello. "This past year has shown all of us how important the public realm is and how much we miss it."
Monograph
The monograph of the firm's work will be edited by award-winning author and architect James B. Garrison and published in late 2021. Since its founding in 1996, the firm has completed elegant new family homes, additions and renovations; barns, stables and pavilions; museum, educational and religious structures. It has been the firm's great privilege to restore landmark buildings designed by Mellor, Meigs & Howe; Wallace & Warner; Walter Durham; and R. Brognard Okie, among others. Projects selected for the publication will illustrate the firm's belief that successful projects are those that enhance the landscape and through the architecture reflect the unique character and desires of the client.
"I'm deeply proud of the work we have delivered over the past 25 years and the loyalty that Archer & Buchanan has built," says Peter. "We are excited to continue working closely with our clients, designing structures that enrich and sustain families and community."
– BACK TO ANNOUNCEMENTS –