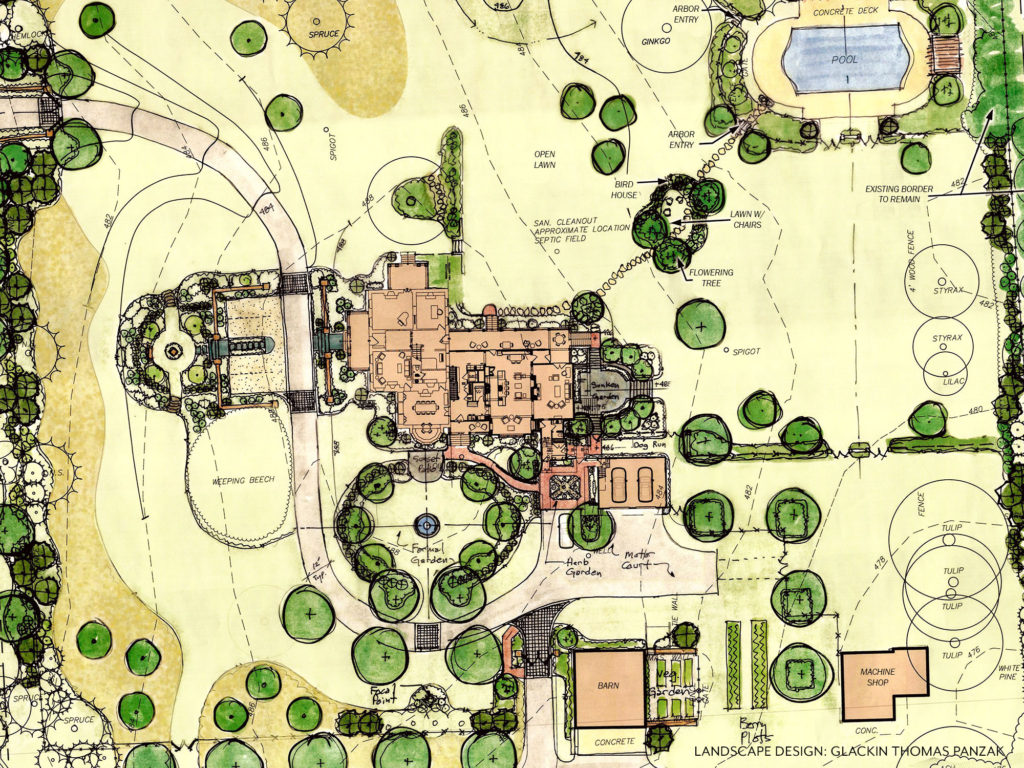 For Consideration: Outdoor Space Design
July 16, 2020
PLACING A CLOSE SECOND TO HOME OFFICE DESIGN AS A POPULAR RECENT CONVERSATION TOPIC, outdoor space design has been on the minds of our clients. As in every spring and summer, we took to our yards and the outdoors this year with glee. But, with folks spending more time at home than usual, we're hearing that outdoor spaces are being viewed with a new, critical eye and spawning a great number of comments that begin with "I wish . . . " .
If you're questioning the functionality or aesthetic of your outdoor space, take a moment to contemplate the whole of your property and things you might want to add or change to make it more useful and enjoyable. Critically important items to consider prior to focusing on the design of any type of outdoor space or feature include:
The exterior appearance of your home and cues you can take from it to make sure the aesthetic of your outdoor spaces works in harmony with the house itself.
Relationships of outdoor spaces to functions within the home and to other existing or planned outdoor spaces, as well as their connectors.
The site conditions of your property including topography, sun exposure, views, and existing elements that you may not wish to change such as existing hardscaping, trees, or structures.
The availability of utilities—including electricity, gas, and water—and ease of providing any needed connections.
When visioning outdoor spaces, we often enjoy working together with a landscape architect to round out the expertise of the design team. With our client, we determine appropriate types of spaces and features and how best to integrate them into the property. So, what types of features and spaces are people clamoring to have?
GARDENS
The most obvious element of an outdoor space design plan, gardens require a great deal of forethought if they are to succeed. Consideration of function (foundation, border, island, ornamental v. edible, etc.), sun exposure, soil conditions, and relationship/connectedness to the home and other outdoor spaces is critical to a well-conceived garden design plan. Of equal importance is determining maintenance requirements and gauging the client's willingness to embrace them. An enormous benefit of good garden design is that many gardens can be enjoyed from a view from within the house as well as from other outdoor locations. For this reason, creating a garden with interest through all four seasons of the year has great value. A creative outlet for the adults in the household, a garden also can serve as a meaningful learning experience for younger residents.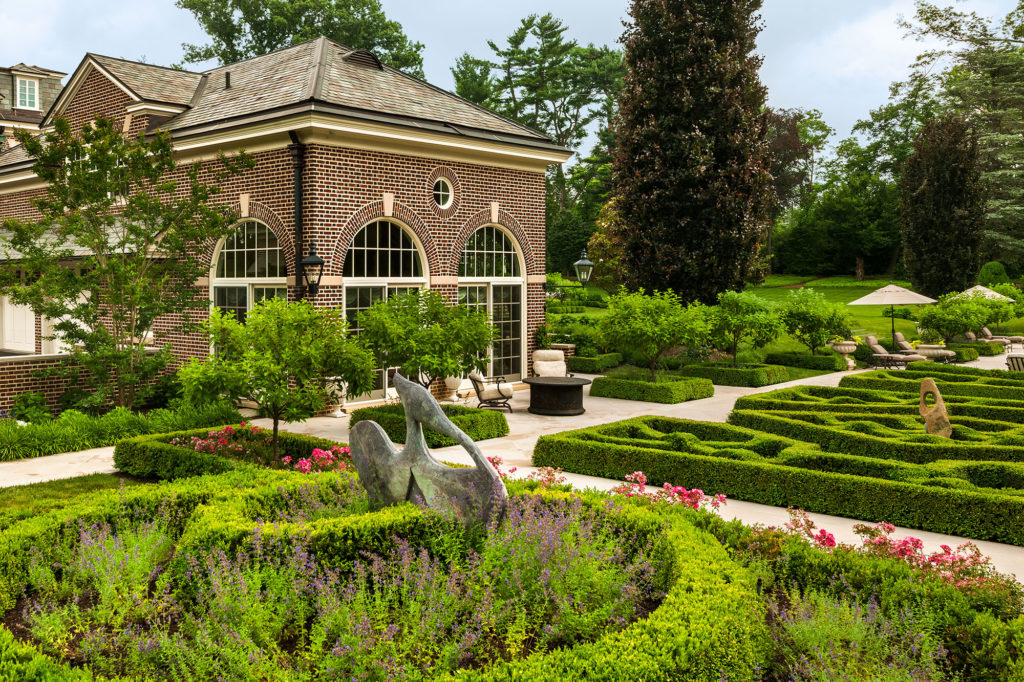 WATER FEATURES
Ponds and fountains—which can include the incorporation of water plants, fish, and night lighting—introduce an element of tranquility as well as beauty into a landscape design with their soothing combination of sight and sound. With carefully considered placement water features, like gardens, can be enjoyed from within the house as well as other parts of the property.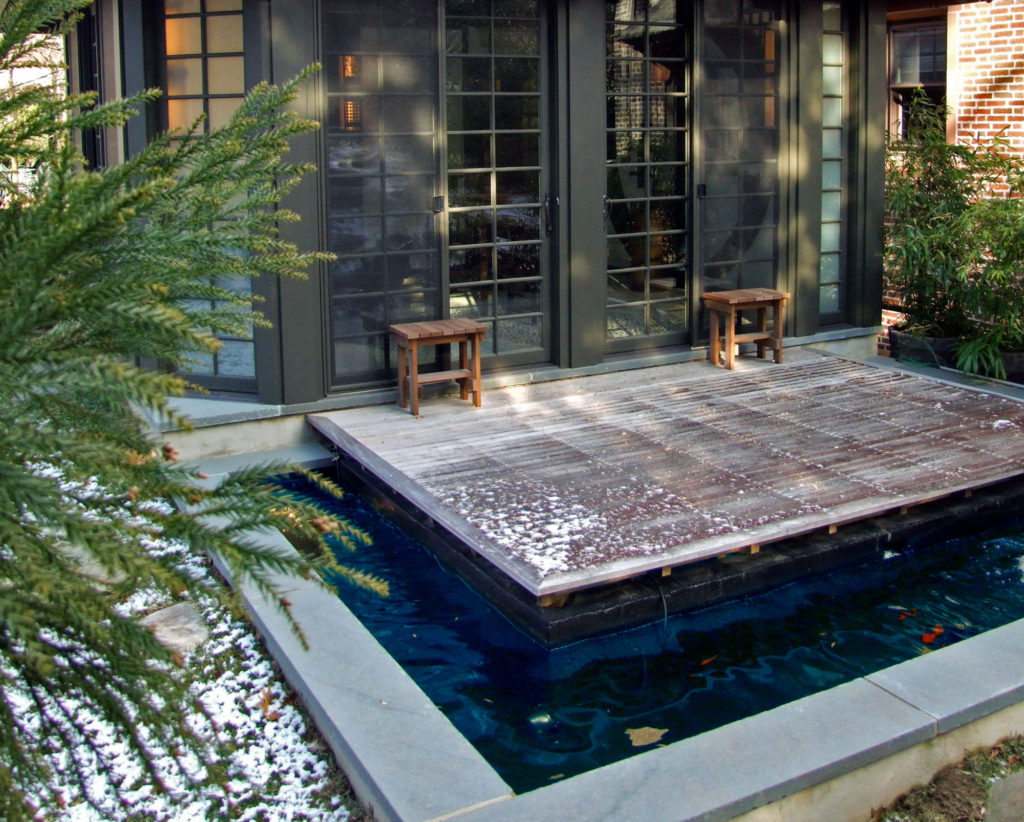 COOKING
Full outdoor kitchens have been in high demand. As a result, there is a multitude of great product options that can be incorporated into an outdoor space design including grills, refrigerators, sinks, pizza ovens, and smokers. Consider where an outdoor kitchen should be oriented relative to an outdoor dining area and how it will be accessed from the home or other outdoor areas. Also consider that access to electricity, gas or water will be needed at the outdoor kitchen location. Including even a small roof over a grill allows for cooking during inclement weather.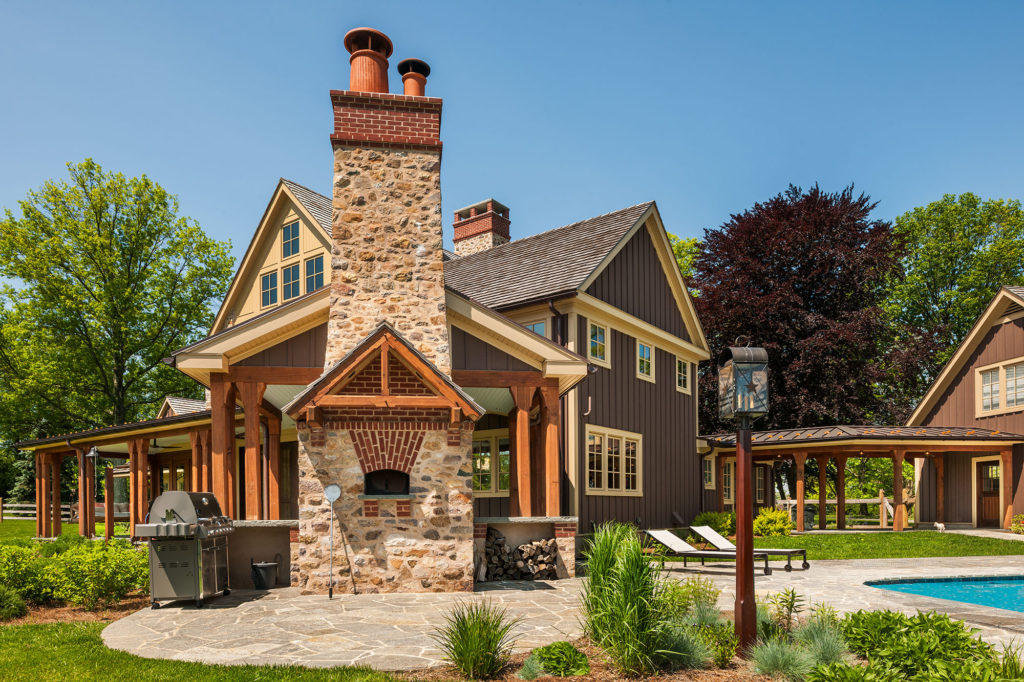 SITTING/GATHERING/DINING
One of the first decisions to make in the design of an outdoor seating or dining area is whether the area will be open air, covered, screened, or a combination. Also, thought must be given to how many people it must accommodate regularly as well as when entertaining guests, and with what sort of furnishings. How the area will relate to other outdoors spaces and the home—and by what connectors it is accessible—are important factors, as is determining desired views or a need for privacy. With the popularity of outdoor rooms today, features that could be incorporated are many and might include a fireplace or firepit, specialty lighting, heaters, and fans; some options of course will require utility connections to support them.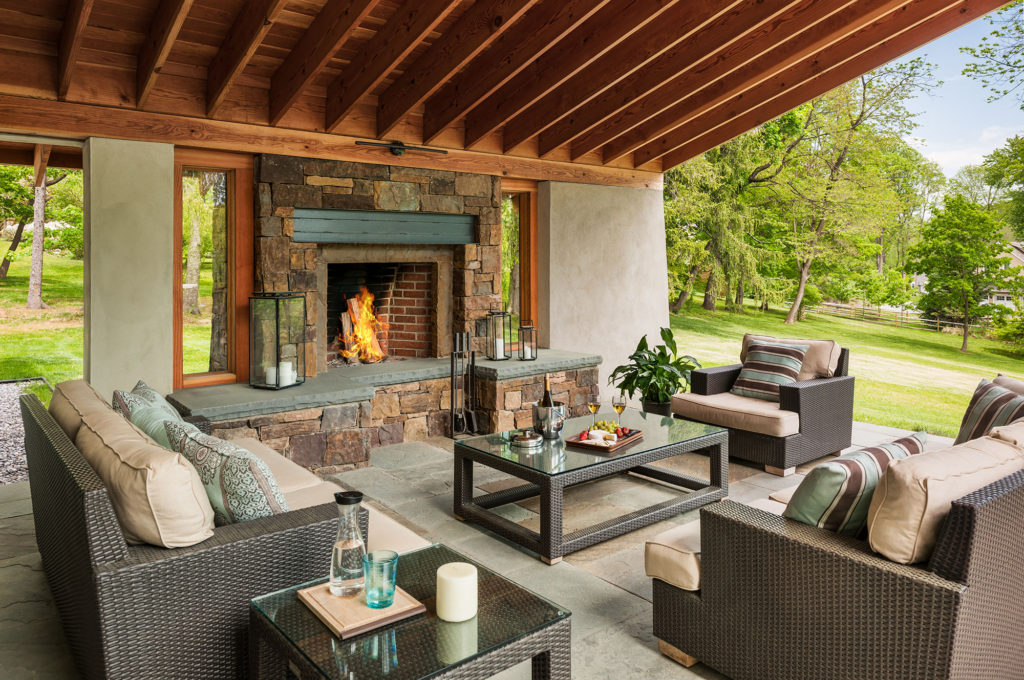 SWIMMING POOLS/SPAS/POOL HOUSES
Whether for exercise or relaxation, a pool should be sited and designed in a shape and size that addresses function as well as its relationship to the landscape, other outdoor spaces, and the home. Spas can be integrated with the pool design, or separate. Accompanying pool houses can range from small structures for supplies, equipment, and pool accessories to elaborate designs housing bathrooms, changing spaces, kitchens, and sitting and dining areas. We've seen some that can accommodate sleepovers!
SPORTS COURTS
Sports courts can provide endless hours of activity and exercise for the entire family. Generally sited away from the home, sports courts can include adjacent structures such as viewing pavilions or storage. The ability to provide a level site and to connect to other parts of the property are important design drivers. Also, consider that sports courts will involve specialized design, installation, and maintenance.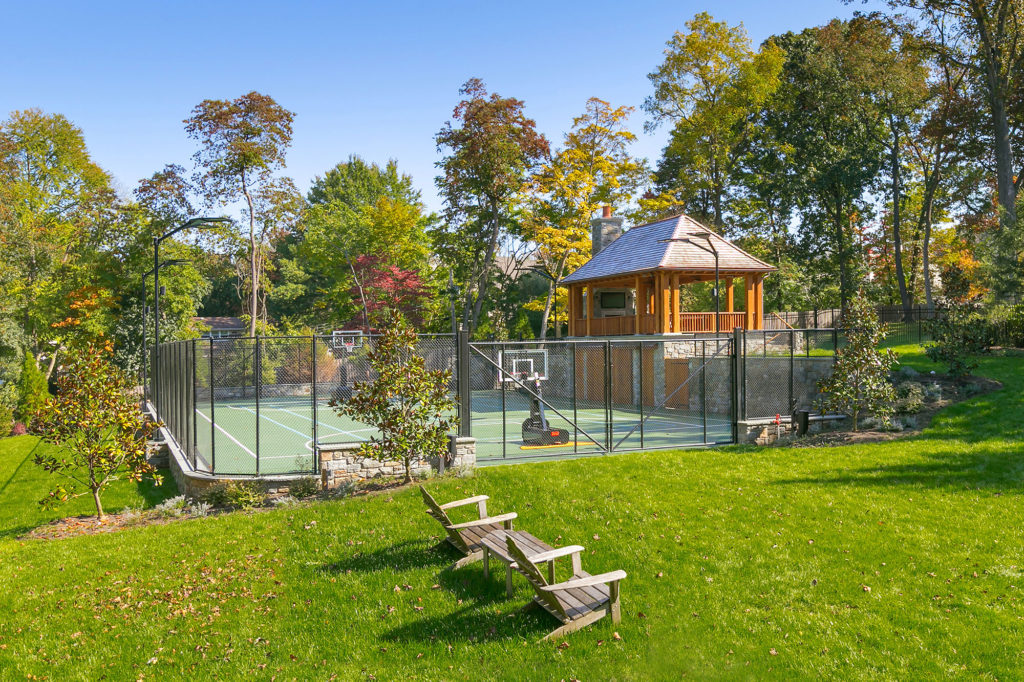 OTHER STRUCTURES IN OUTDOOR SPACE DESIGN
Pergolas, gazebos, trellises, arbors, greenhouses, follies, and fencing are other structures that can be incorporated into a landscape design. While some function independently and are destinations in their own right, others are more likely to be an element within a larger plan. Fencing, often incorporated solely for maintaining privacy, can be elevated to a greater role if integrated as a space delineator within a landscape or by serving as a kind of sculpture.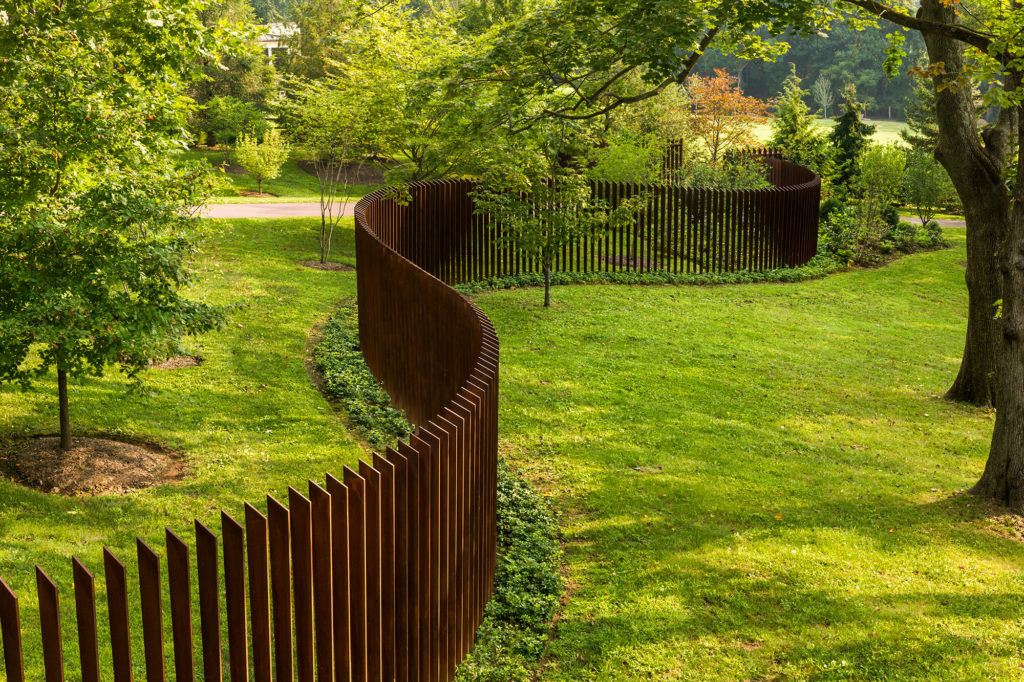 – BACK TO ANNOUNCEMENTS –